#best browsers for online safety #secure browsers #browser security #browser privacy #great browsers #online privacy #best browser #secure internet #best privacy #computer privacy #secure browsing #user privacy #security encryption #privacy breaches #data privacy #brave browser
This post will explain how you can stay safe while using various types of websites and how you can block ads on websites with the help of extensions and avoid online fraud. browsers for online safety.
It has become increasingly difficult to maintain Internet privacy and security all over the world. In such a situation, most websites monitor your browsing activity. They use this to prepare your profile and keep sending you ads based on your information. In addition to the security tools available on browsers like Google Chrome, Mozilla Firefox, Microsoft Edge, and Apple Safari, many extensions can protect you from being a victim of online fraud. So in this post, let's talk about these extensions.
Avast Online Security: The Best Online Security
One of the most reputable security software companies is Avast. It ranks websites based on security. This prevents fraud and malware from affecting your computer. As soon as you click on a suspicious page, it starts flashing a warning message on your computer screen. This ranking also appears in Google searches. In this way, you can avoid clicking on any fake website.
#2. Emsisoft Is Ranked Second For Online Security.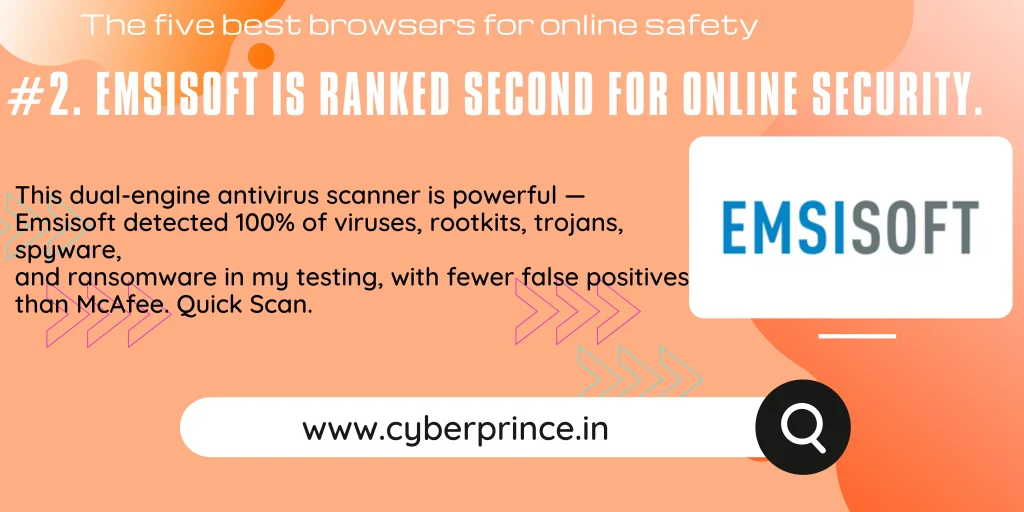 This is a widely used extension in the field of security software. This extension monitors the websites you visit frequently and protects you from visiting suspicious websites. If you click on a suspicious website while browsing, an alert will appear on your screen and you will know that this page is not secure.
#3 Ghostery Block Online Ads
The Ghostery extension allows you to block advertisements on websites, as well as tell you how advertisers are tracking you on a variety of websites. This extension breaks the code and blocks the scripts and technologies that monitor you on various websites. In such a situation, advertisers are not able to collect your information.
#4 Ublock Origin Chrome Extension
You can install the uBlock Origin extension in your browser. If you are bothered by ads while browsing, then you can install the uBlock Origin extension on your browser. This extension blocks intrusive ads, auto-playing media, malware-hosting sites, and tracking scripts all at the same time. Due to this, your privacy is maintained and your page is launched faster.
Note: While Chrome can be extremely secure depending on the settings, Chrome is not the best browser for privacy. With one lawsuit claiming that Chrome also shared data collected by users while they were in Incognito Mode, it is certainly not the best privacy-friendly browser. Google is not open-source, so we cannot say whether or how Google may track its users (Chromium — the browser Chrome is built upon, and the next on this list — does have open-source code available)
25+ important SEO Interview Question
#5 Best Browsers For Online Safety: Chrome Extension Keeper
It is most important to keep your password safe while browsing online. This extension plays an important role in password protection. This extension protects all your passwords in a single digital vault with a master password. Using this extension on one device is free and can be used on multiple devices at the same time for a fee of $3.75per month.
Thank you so much 🙂 for reading this article about the best browsers for online safety